07 May 2014

Muslims Kids Name App for Selecting Islamic Names for Boys and Girls

Muslim Kids Names is a smartphone app with a collection of Muslim names and their meanings in English for both genders. Since giving the baby a meaningful name is one of the most fundamental requirement for parents, thus many parents look for resources where they can find good names for their kids. Muslim Kids Names mobile app makes selecting a name very easy and hassle free as it provides all the Muslim names in one place giving people a chance to choose the best names for their kids. Muslim Kids Names is available for free download on iTunes.
Benefits of Muslim Kids Names
Muslim Kids Names, developed by the QuranReading.com Academy provides a single platform to search for names of your new born babies. All the Islamic names with their meanings and roots are included in this app. You can download this app when you are deciding a name for your baby and go through the list to narrow down the choices to pick one name that appeals the most to you. The favorite button lets you save your options so you will not have to go back to searching a name from the beginning.  It's a very good resource for every Muslim parents looking for baby names. Not only that, people who have recently converted to Islam and are now in search for new names for them, can also make use of this free application and choose an Islamic name.
Features of Muslim Kids Names
Muslim Girl Names:  A huge collection of Islamic names for Muslim girls with meanings is included. Taping through the Girl button on the top, you will be presented through list entailing legitimate Muslim names for Girls. Scroll through the list, and choose the name which best meets your will.
Muslim Boy Names: Popular and unique Islamic names for Muslim boys with meanings are featured in Muslim Kids Names. Like the above feature, you can select to see the list of Boys names by simply selecting the Boys tab.
Search Option: The Search feature enables you to look for your favorite name and find the meanings of names you like.
Favorite: Add the names you like to the favorites section by tapping on the favorite button. You can add as many favorite names as you like.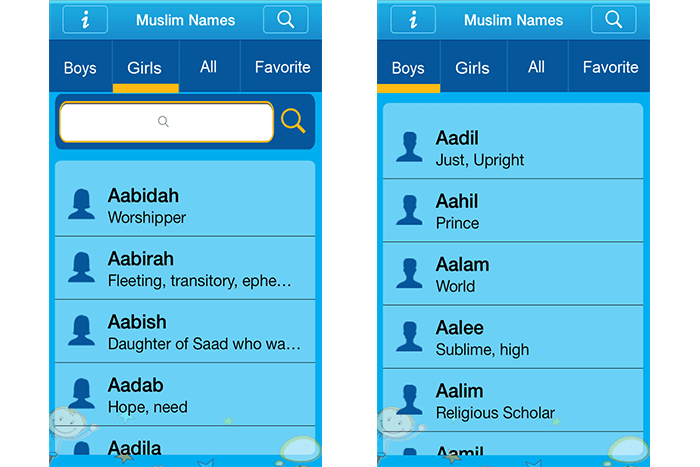 Conclusion
Muslim Kids Names is one of the useful Islamic apps for every Muslim in search for baby names. Download this app now to take advantage of this large database of Muslim names. Go to iTunes now using the above buttons to download this app for free!