18 Oct 2018

Some Beautiful Places to Visit in Medina

Medina is the second holiest place on earth after Mecca which is located in Saudi Arabia about 200+ miles north of Makah. Medina has important religious and historical significance to Muslims around the world. The city of Medina has Masjid-e-Nabvi which is the burial place of Prophet Muhammad (SAW). Muslims around the world came for performing Hajj and Umrah also visit Medina in order to do Ziyarat of Prophet Muhammad's (SAW) mosque. Other than religious aspect Muslims try to explore this beautiful city in which there are many beautiful mosques, old lanes, craft shops, fresh dates, delicious food, markets, coastline present which are the main attractions of Medina.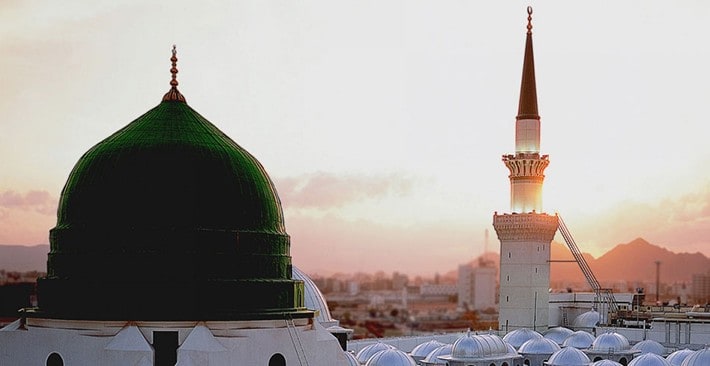 Places to Visit in Medina
Below are some beautiful places that one should visit in the holy city of Medina.
Masjid-e-Nabvi
Masjid-e-Nabvi is known as the mosque of Prophet which was also the center of the religious, political, and economic life of Muslims at the time of Prophet Muhammad (SAW). Masjid-e-Nabvi is now 100 times larger than its original size and can accommodate more than half a million worshippers at a time. A large green dome now covers the Prophet Muhammad's (SAW) residential quarters, where he is buried along with two caliphs Hazrat Abu Bakar (RA) and Hazrat Umar Farooq (RA). Over two million Muslim pilgrims visit the Prophet's Mosque each year.
The Quba Mosque
The Quba mosque is one of the three historically important mosques left in Medina. It is the site of the oldest mosque in Islam, having been founded by Prophet Muhammad (SAW) upon his flight from Mecca to Medina. The new mosque is spacious with a sort of cramped forward area and spacious back area, often used for pilgrims who are reading the Quran or napping.
Al-Medina Museum
Medina museum is located on the right side of Masjid e Nabvi. This Museum preserved the collection of old Islamic monuments and rich Islamic history. It demonstrates the history and role of Medina in the arrival of Islam.
Wadi-e-Jinn
Wadi-e-Jinn is also known as Wadi al-Baida which is located 30km away from northwest of Medina. The importance of this valley is due to the reason of cars move against the center of gravity. Due to this Wadi-e-Jinn brought the attention of thousands of People across the world. There is something strange about this Wadi.
 Medina Library
Madinah Library is the historical place that visitors must have to see when visiting Medina. It remains open for visitors from 7 am to 9 pm. The Library was founded by Sheikh Ahmed Yasin in 1352 Hijri.
Jannat ul Baqi
Jannat ul Baqi is located near Prophet's (PBUH) Mosque where many companions and relatives of Prophet Muhammad (SAW) were buried. Among many of them, the most dominant are the wives of Prophet Muhammad (SAW) except Hazrat Khadija (RA) and Hazrat Maymonah.
Jabal -e-Uhud
Jabal-e-Uhud is another famous place to visit in Medina which is about 7km on the north of Medina. The well-known battle of Uhud was fought in 3 A.H and the uncle of Prophet Muhammad (SAW), Hazrat Hamza and other companions are buried here.
Masjid-e-Qiblatain
This mosque has conventional design famous for its twin dome and minarets as well as huge prayer area.
The Exhibition of Beautiful Names of Allah  
This beautiful exhibition is held at gate 13 of Masjid-e-Nabvi where beautiful names of Allah's exhibit. It is a beautiful exhibition without an entry ticket.