29 Apr 2014

6 Kalma of Islam – Free App to Learn Basics of Muslim Belief

6 Kalmas of Islam is an app containing the 6 fundamental Kalmas required for complete faith in Allah. These six Kalmas are the essence of Islam. Many Muslims remember first Kalma only.  This app gives you a chance to memorize all the Kalmas. Both, Android and iPhone users can use the following buttons to download this from the particular app stores.
Importance of 6 Kalmas
Each Kalma has its own importance and each word in a Kalma helps in increase of Iman.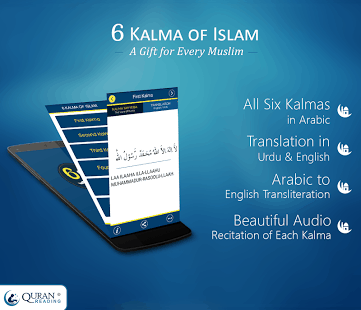 First Kalma, Kalma Tayyeba, is the basic requirement for any Muslim to be a true believer.
Second Kalma of Shahadat is the testification that a Muslim gives of his belief in Allah and Prophet Muhammad (PBUH).
Third Kalma, Kalma Tamjeed, is for glorification of Allah.
Fourth Kalma, Kalma Tauheed, strengthens the belief in the Oneness of Allah.
Fifth Kalma, Kalma Astaghfar is for repentance and to ask forgiveness from Allah.
Sixth Kalma, Kalma Rad a Kufr, rejects disbelief and submits to faith in Allah.
Memorizing all the 6 Kalma brings purity of heart and increases faith in Allah.
Benefits of 6 Kalma of Islam
The biggest benefit of 6 Kalma of Islam is that you will always have the guardian of faith with you in your phone. Whenever you are feeling low on faith or stressed out, you can read the Kalmas and refresh your faith. This app is useful for both kids and adults as Muslims of every age are required to know the fundamental Islamic Kalmas.
Features of 6 Kalma of Islam
Translation in English – 6 Kalma of Islam has translation of Kalma in English. This ensures that when you recite any Kalma, you will know its true meanings and will be able to understand it better.
Translation in Urdu – Urdu Translation of Kalma is provided for people who want to understand the Islamic Kalma in Urdu.
Transliteration – Every Kalma in 6 Kalma of Islam has transliteration. So people who can't read Arabic can also benefit from this app. Also, transliteration in English helps with using correct pronunciation of the Kalmas.
Audio – Audio recording is available for the 6 Kalma app. You can listen to the recording of Kalma whenever you want. Listening to Kalma will bring peace of heart. It also makes memorization of Kalma easier.
Share with friends – The app allows people to share Kalma with friends on Facebook, twitter, email and SMS. This way your friends can also benefit from the blessings of Kalmas and you will get reward for sharing the Kalma too.
Conclusion
6 Kalma of Islam is an app developed by QuranReading.com Acadaemy that every Muslim should have on their smart phone to learn the basic fundamentals of Islamic believes. This app carries the fundamental of Islam.  The app is available for free on Play Store and iTunes. Also, along with this app, you can find more Islamic apps developed by QuranReading.com from this link.