08 May 2014

Ayatul Kursi – Mobile App to Protect You Everywhere!

Ayatul Kursi is a free Islamic App designed for the Muslims around the world by The QuranReading.com Academy. This app has been designed in light of increasing need of Islamic educational apps in the smartphone app market.  Having Ayat ul Kursi app in your cell would greatly benefit you in order to read, recite, and memorize this verse without having to open the Holy Quran. You can download this app for free from Google Playstore and iTunes on your device now to reap its benefits.
Benefits of Ayatul Kursi Mobile App

We are presenting you Ayatul Kursi, the most read ayat of Quran by Muslims in the world, in the form of app for your smartphone so that you may benefit from its blessings and remain closer to Allah. Having Ayatul Kursi in your smartphone will always remind you to read it before you step out of home or go to bed. There are multiple benefits of using this app, such as:
The recitation of Ayatal Kursi in voice of famous reciters increases the value of this app and enlightens your heart and soul
The addition of "Benefits and Blessings" of Ayatul Kursi motivates the user to repeatedly recite the verse of Throne as it enlightens them about its importance.
The thematic settings option makes the app fun to use as the user can chose between different display options.
Inclusion of translations ensures that the reader knows and understands the meaning of Ayatul Kursi and may be able to think about its meanings creating deep insights about Quran and knowledge about Islam.
Features of Ayatul Kursi
Translation: Translation of Ayatul Kursi in English is included in the app to double the taste of reciting the verses. It would help you understand the message given by Allah in this famous verse. This feature can be turned on and off from the settings section.
Transliteration: Along with Ayatul Kursi in Arabic, its transliteration in English is included to facilitate those who can't read the Holy Quran in Arabic properly. This option can be turned off from the main menu bar and also from settings option.
Recitation: Two renditions of Ayatal Kursi by Qari Abdul Rahman Al-Sudais and Qari Sheikh Mishary bin Rashid Alafasy are included. User can select their favorite reciter and listen to the recitation of Ayatal Kursi any time they want. User can pause and play the audio of Ayatul Kursi.
Theme Settings: The text size is adjustable by the user. User can also select between different color combinations for text color and background colors, thus making the app more attractive.
Benefits and Blessings: The benefits and blessings section shares important ahadiths and riwayats associated with Ayatal Kursi.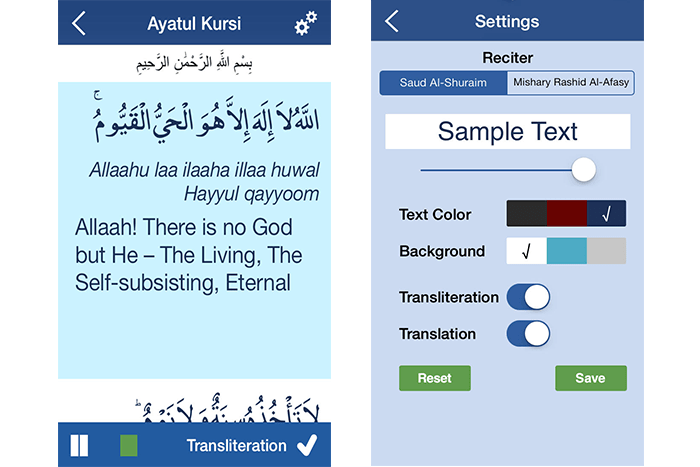 Conclusion
The inclusion of this app in your cellphone is very useful for teaching young kids about Islam. They will greatly benefit from the blessings of Ayatul Kursi. The app is designed to make learning experience interactive. Download Ayatul Kursi on your smartphone now and start a great learning experience.