27 Feb 2015

Surah Yusuf App for Mobile with Recitation and Translation

Surah Yousuf is a smartphone application developed by QuranReading.com (a specialized Online Institution meant for spreading the wisdom of the Holy Quran throughout the world). It consists of complete recitation of 111 Ayats of this Quranic Chapter, which was revealed on the Messenger (PBUH) of Allah in Makkah. The application is available for both Android and iPhone mobile phone users. Download it using the buttons given below:
Features
Some of the most distinguishing characteristics of this Smart Phone application are:
Both reading and listening options are available
Audio is offered in two voices of famous Quran Reciters, "Al-Ghamidi" and "Al-Sudais"
"Go To" choice helps to jump to a specific Ayah
"Translation" choice helps to interpret the Arabic text in English
"Transliteration" option gives as it is wording of Arabic text in English
You can modify the "Font Size"
3 different kinds of "Font Styles" are offered
3 "Font Colors" with Black Blue and Red available to choose
You can also alter the "Background Color" with 3 light shades
Do not forget to keep any altered option functional with "Save" Option
You can also reorganize the app to initial settings with "Reset" option
Distribute this beautiful app with your friends and acquaintances with a multitude of Sharing options
Benefits and blessings of this Surah
This tool also contains the option of "Benefits and Blessings", which explain briefly about the implication and great advantages of reciting this Quranic Chapter such as:
Easiness of matters before dying and removal of jealousy from one`s heart by reciting this Surah and teaching it to family members
Rising on the Day of Judgment along with the pious servants of Allah, having handsomeness on one`s face just like that of Hazrat Yousuf (A.S), and protection from every kind of fear
Keeping of one`s heart away from illegitimate lustful desires
Drinking of water in which this Surah has been dissolved, would result in one`s sustenance being made easier to reach and waking up among the People of Jannah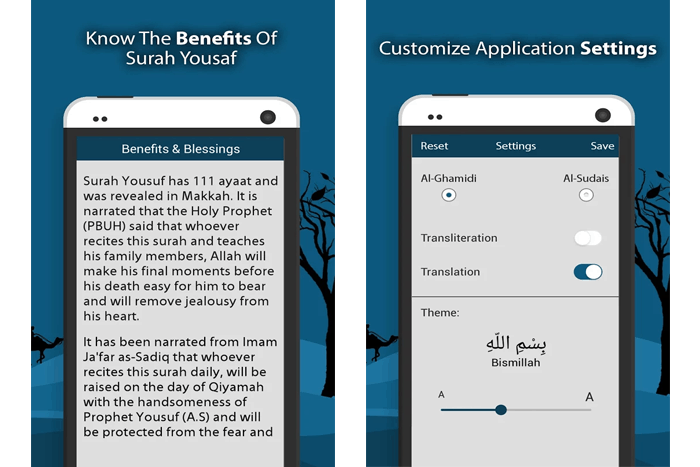 So, download this free app right now in order to take great advantage from recitation of Surah Yousuf. Also, browse more Islamic applications developed by Quran Reading.