30 Apr 2014

Qibla Connect – Smart App To Know Right Direction of Qibla

Qibla Connect is a Qibla locator mobile application for Android and iOS platforms. By using this app, besides other functions, the users can easily find the direction of Qibla no matter wherever they are in the world and thus say their five times prayer by facing towards Qibla. Therefore, this app, developed by the QuranReading.com is the need of people who live in the West where they don't have mosques nearby to give them an idea about the direction of Qibla, or people from other Muslim countries who travel frequently are unable to guess the direction properly are the ones who will find this app of great help.
For a Muslim, knowing the directions is one of the most important elements of the daily routine. Besides the general sense of direction, the knowledge of North, East, South and West helps a Muslim identify the direction of Qibla facing which he or she says prayer five times a day. There are Muslims who either find it hard to keep track of directions or because of extensive traveling are unable to find Qibla to say prayer, for them Find Qibla Direction is a mobile phone app that can serve as a Qiblah Finder to help them in finding Qiblah.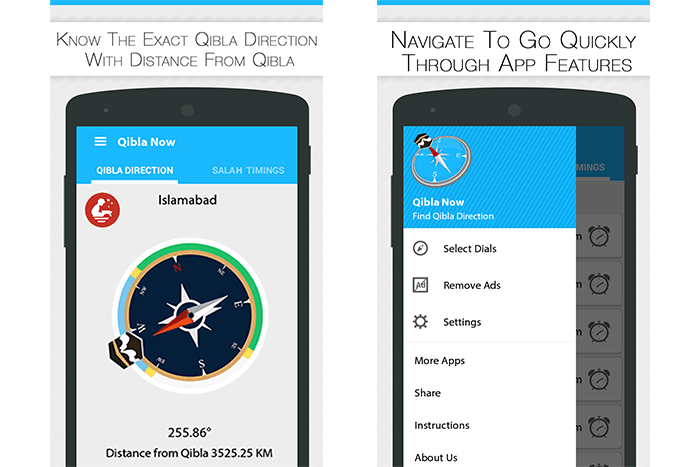 Benefits Of Find Qibla Direction
Besides the general benefit of finding Qibla and serving as a compass for the users, the app also comes with other benefits.
As the name states itself the primary benefit of using this Qibla locating application is that it shows you the right direction of Qibla to offer prayers when you are at an anonymous place.
Besides this, you can also get to know your distance in Kilometers from the Qibla with use of Find Qibla Location. This particularly is helpful for those who live or visit in the premises of Kaabah. You will accurately come to know how far or near you are from the Holy place.
Moreover, with Find Qibla Direction app you can also know the direction towards Qibla in degrees so that you are able to view destinations and locations in terms of their degree from Qibla or towards it.
Salat alarm can be set to remind you of Azan timing in your area to pray on time. This Salat timing can be adjust according to your current location.
Offline data enabling feature lets you find the Qibla direction and Salat timing even when you are out of network reach and cannot use internet.
Features
Find Qibla Direction app comes with various features that are the same on both its iOS and Android version. Some major features of the app include the following:
Multiple Dials – There are multiple dials available for locating Qibla, therefore, the app also has the element of aesthetic appeal and the user can select the dial of their liking.
GPS Location System – With the GPS location system, the app automatically tells the users about the Salat timing of the area where they are in, therefore, the app works equally well for the Muslims who frequently travel abroad.
Custom Global Salat Timings – Those who do not have GPS service on their cell phone can manually enter their destination to get the Salat timings for the area. Therefore, in addition to finding Qibla the app also helps in telling the Salat timing for timely offering of prayers.
Set Prayer Alarm – The app also contains a Salat Alarm that can be set to five times a day Salat or you can manually set it for a particular Salat. Thus, you never miss Salat and always say it in the right direction with Find Qibla Direction.
Perfectly Functional – The app works with equal effectiveness no matter whichever part of the world it is used in, all the likes and recommendations on both the platforms is a proof of its effectiveness.
Distance from Qibla – For those who wish to know their distance from Qibla for general knowledge or the ones who are in Saudia Arabia for Haj or Umra and want to know their distance from Qibla can also benefit from this app.
Conclusion
If you travel frequently from one place to another, don't know how to track Qibla direction or find it difficult to remember the Salat timings in different locations then download Find Qibla Direction now to solve all these problems.