21 Aug 2014

10 Great Tips to Raise A Muslim Kid

Children are the future of a generation, therefore, when couples become parents their primary focus is upon raising the kids in the best manner possible. There focus is on eliminating the factors, which they think bad and bring in the factors, which they think, are good and necessary for the upbringing of their children. The teaching of religion is one compulsory part of the upbringing process.
For Muslim parents it is necessary to work on the upbringing of children as in the life hereafter they will be held responsible for the upbringing of their children. There are some tips that can help Muslim parents raise their children in a better way so that they become closer to Islam and be better practicing Muslims. The lines below discuss a few such tips.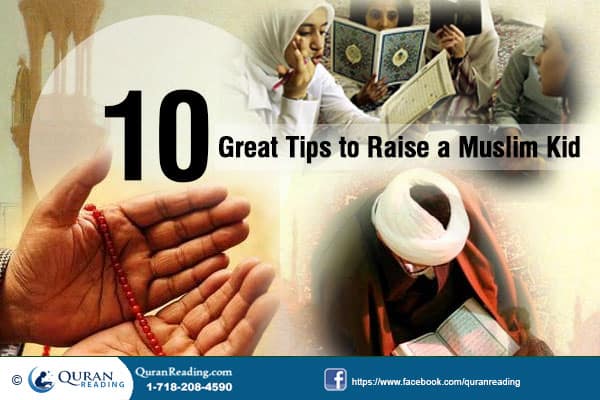 Tell Them The Importance Of Worship:
Being human comes with one of the major objectives of worshipping Allah Almighty. For a Muslim it is imperative that he or she worships Allah Almighty so that they know that He is the Lord and we as humans are supposed to turn to Him and worship Him only. It is the fundamental of Islam and without knowing and acknowledging the fact that Allah is the Only One worthy of worship a Muslim cannot proceed in faith. Therefore, it is the duty of Muslim parent to teach the children the importance of worship, mainly about the five pillars of Islam so that the kids understand the Lordship of Allah and subjugate to Him only.
Arrange Quran Tutor:
In addition to teaching children about the importance of worship in Islam, a Muslim parent must also arrange a Quran tutor for the children who can teach them to read Quran. Quran is the conduct of life, which a Muslim is to follow, therefore, the sooner the kids get exposed to Quran the better understanding they get of Islam in addition to attaining reward for Quran recitation. The benefit of a Quran tutor is that he or she can also teach Quran to the kids with translation and explanation of verses, hence, kids get a better and thorough understanding of Islam. QuranReading.com offers online Quran Classes for Kids also so it is a great opportunity for Muslim parents who want to see their Kids reading and reciting Quran with proper pronunciation.
Be Kind To Them:
The one thing about Islam is that there is no compulsion in it. A person can only tell the other about Islam in a better way so that the other person gets attracted towards it and wishes to know more about it. If the preaching of Islam is done in a less than kind or impolite manner, then the results are adverse which result in the person going further away from Islam. Therefore, when it comes to teaching children about Islam, never be harsh, rather under any circumstance and teaching whatever you wish to teach them, never ever let go of kindness. The more kind and polite you are in teaching children, the more they will be open to learning and would put up little resistance.
Tell Them Stories:
Moral stories are what are used to teach children about ethics and values. Moreover, children look forward to stories as they inspire them and provoke their imagination. When it comes to raising children on Islamic values, it is imperative that you as a Muslim parent tell the children stories about Islamic ways of life, Muslim heroes and how they contributed to Islam and the way they lived their lives. When children will listen to their stories they will get ideals to look forward to while growing up. This way children will have ideals in front of them in addition to knowing about the true values and norms of Islam pertinent to living life in a better way.
Make Islam Interesting for Kids
It is definitely a difficult thing to get your kids into the habit of Islamic learning. However, you can make it easier for you by making Islam interesting for them. In this technological era, there have been many teaching methods in place that can effectively help you. One of the commonly used way nowadays is to use your smartphone and Install useful Islamic learning apps for Kids. This will surely make it a lot easier for Kid to learn as it is interactive method.
Let Them Sit With Adults:
Perhaps the biggest problem with Muslim parents is that they try keeping children away from the company of adults because there are discussions that are not suitable for kids and thus they are to be kept away from sitting in the adults. Although this action is undertaken to protect children from adult discussions, however, this consistent attitude of keeping them separate results in them being deprived from precious Islamic knowledge the sharing of which takes place during Islamic discussions among adults. Therefore, in order to ensure that children get maximum exposure to Islam, a Muslim parent must make sure that children are a part of adult Islamic discussions and lectures.
Give Them Importance:
If you are truly serious about Islamic upbringing of your children then you must be aware of the fact that you need to boost confidence in them so that when they grow up and chose the path of Islam they will stick with it because the way of Islam is different than any other way. Therefore, to prepare children for the time when they will be different you need to give them importance during their youth. The importance you give them in the matters of family, in discussions on Islam and in general understanding and perception of Islam gives them confidence that helps them in learning and then practicing it in later years of their life.
Reward Them:
Once you have educated your children about a particular Islamic principle or value, then you need to associate the practice of it with some kind of reward so that the children get encouragement to practice it. Therefore, the element of reward must be associated with everything good done or practiced by the children during their education and upbringing phase.
Conclusion:
When it comes to upbringing and raising of Muslim children, the parents must never take the route of coercion, rather they should teach and educate their children about Islam in the politest and kindest of manner along with being an example to them by practicing Islam.