30 Apr 2014

Kids Dua Series – Islamic Duas Learning App For Muslim Kids

Kids Dua Series is a smartphone app for kids of age between 1 to 9 years. The duas included in this app are for young Muslims who have just started learning the basics of Islam. Kids Dua Series is a among the useful list of free Islamic apps and parenting tool for people who are looking for resources to teach their kids about Islamic way of life. This app includes supplications which are recited while performing different daily chores like eating, drinking, entering mosque, before/after sleeping and many more. The app is available for free download on iTunes and Google Playstore so that people can benefit from Islamic teachings.
Benefits of Kids Dua Series
The growing number of Muslim immigrants in foreign countries has arisen the issue for teaching of basic Islamic knowledge to young Muslim kids. Parents are always looking for ways to teach kids at home and enlighten them about Islam. Unfortunately there is a gap of knowledge about Islam in the online world which makes it challenging for Muslims living in foreign lands when it comes to learning about Islam. To fill in this gap of knowledge, QuranReading.com has introduced a smartphone app for children with the name of Kids Dua Series.
Some benefits of Kids Dua Series app are:
Easy learning of Islamic supplications for children.
Bringing ease to Muslim parents who are trying to give Islamic knowledge to their kids.
All the duas are in one place so you don't have to download multiple apps for different duas
Usefulness of Islamic supplications is equal for both children and adults. Kids Dua Series can be used by kids as well as adults who might want to revise Islamic duas.
The division of duas in different sections based on age group makes it easy for parents to teach kids duas according to their age and learning aptitude.
The interactive design of the app keeps the kid interested in using the app and the kids don't get bored while learning Islamic duas.
Features of Kids Dua Series
Categories: Kids Dua Series has divided duas in three age groups of 1 – 3 years, 4 – 6 years and 6 – 9 years. Each category has a different difficulty level based on the learning ability of that age group.
Interactive Design: The app is designed in a way to make it fun for kids. It's a colorful app which engages the kid in learning process. Elaborated Images are used to describe the purpose of dua. A Muslim child character is used to show the action being performed and the prayer is associated with it.
Script: The Arabic script used for duas is clear and allows the user especially todler to read them without any problem.
Audio: To help kids who are not familiar with Arabic, voice over of every dua is included. This helps the kids to listen to duas and memorize them as per pronunciation.
Translation: Translation of each suuplication is given in English which enhances the understanding of toddler about the dua they are reciting.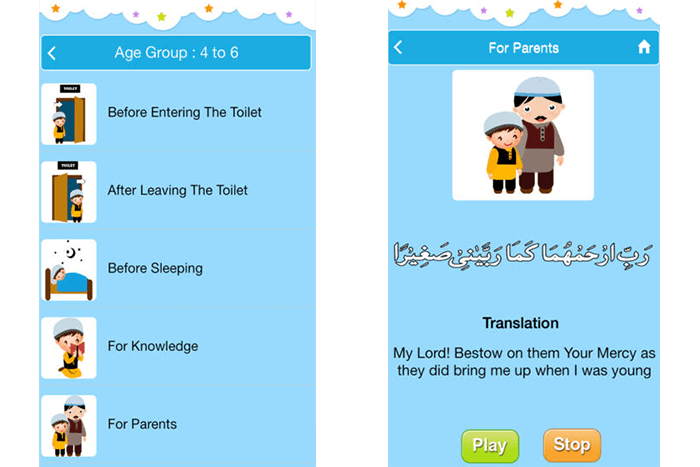 Conclusion
Kids Dua Series is a comprehensive app carrying useful daily duas in one place for Muslim Kids and parents. This app is easy to use with its simple navigation. Download this app on your smartphone device now to introduce your kid to Islam in a fun way!