26 Aug 2014

Kids Kalma Series – An App to Learn 6 Kalma Word by Word

Kids Kalma Series is an interactive educational application developed for Muslim smartphone users by QuranReading.com with the feature of word by word recitation, translation, and transliteration. The six Kalma of Islam are a manifestation of faith for every Muslim. Hence the memorization and understanding of these Kalma in Arabic is advised for Muslim children and adults. Kids Kalma Series is a very helpful application for learning the Kalma in Arabic with translation in English. Download this app now from Google Playstore or iTunes and benefit from the rewards of Allah.
Benefits of Kids Kalma Series
Kids Kalma Series features the six Kalma of Islam which are fundamental to Muslim belief, thus the benefits of this app are uncountable.
Each Kalma has its own importance and each word in a Kalma helps in increase of Iman. Following list comprises of the names of six Kalma and their purpose:
First Kalma, Kalma Tayyeba, is the basic requirement for any Muslim to be a true believer.
Second Kalma of Shahadat is the testification that a Muslim gives of his belief in Allah and Prophet Muhammad (PBUH).
Third Kalma, Kalma Tamjeed, is for glorification of Allah.
Fourth Kalma, Kalma Tauheed, strengthens the belief in the Oneness of Allah.
Fifth Kalma, Kalma Astaghfar is for repentance and to ask forgiveness from Allah. And
Sixth Kalma, Kalma Rad a Kufr, rejects disbelief and submits to faith in Allah.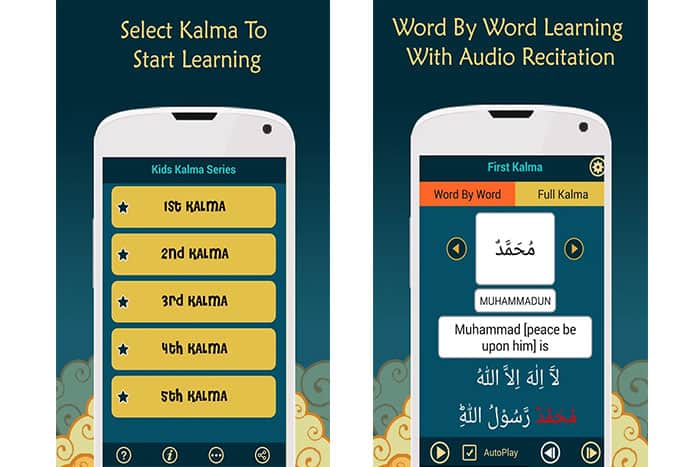 Few benefits of this app are:
Word by word recitation will help the reader, especially kids to listen and learn the words.
Word by word Translation enhances the understating of each word of Kalma providing clarity in the meaning of faith of a Muslim.
The word by word transliteration is a great feature for a Muslim whose first language is other than Arabic. The transliteration in English helps in guiding towards correct pronunciation of each word of Kalma.
Ease of using the app at anytime anywhere enables the users to learn the Kalmas at their preferred times anywhere they are.
Features of Kids Kalma Series
Wordy By Word: Kids Kalma Series has been developed with word by word method for interactive learning.
Translation: The translation of Kalma in English is provided in word by word form as well as complete form.
Transliteration: The transliteration of six Kalma is given in English for every single word as well as whole form.
Recitation: Recitation of six Kalma is provided in Kids Kalma Series in word by word form as well as verse by verse form.
Customization: Option for customizing the text color, font size and background color is given for users.
Conclusion:
Kids Kalma Series is a very interesting app for Muslim children to learn the six Kalma of Islam. Including this Islamic app on your smartphone will help your kid learn Kalma in an interactive manner. This app will initiate a learning experience for your kid that will move them towards gaining more Islamic knowledge. Download this Kids Kalma Series now and benefit from the blessings of Kalma.