22 May 2014

Ramadan Duas App – Supplications for the Month of Ramadan

Ramadan Duas App is a free Islamic app, which entails Islamic duas for the month of Holy Ramadan. These duas in this app are gathered from different authentic resources and have all put together in one app to make supplicating easier in the holy month. Therefore, it is recommended to install this app in your Smartphone and be prepared to smartly invoke to Allah in the month of fasting. The app is available free on both iOS and Android smartphone users and can be downloaded via following buttons:
Benefits of Ramadan Duas App

Ramadan is a month filled with blessings from Allah SWT. The month is divided into 3 Ashra: Mercy, Forgiveness and Freedom from hell-fire.  Specific duas are prescribed to be read during each Ashra to seek mercy and forgiveness of Allah. Along with these duas, some daily duas are also included in Ramadan app which helps in maintain worship to Allah during Ramadan. The benefits of Ramadan app are thus as follows:
Helps is maintaining piety in Ramadan.
All necessary duas for Ramadan in one place saves time.
Good for Muslim kids to memorize duas in Ramadan.
Listen to the recitation of duas which helps in memorizing them and keeping dhikr all the time.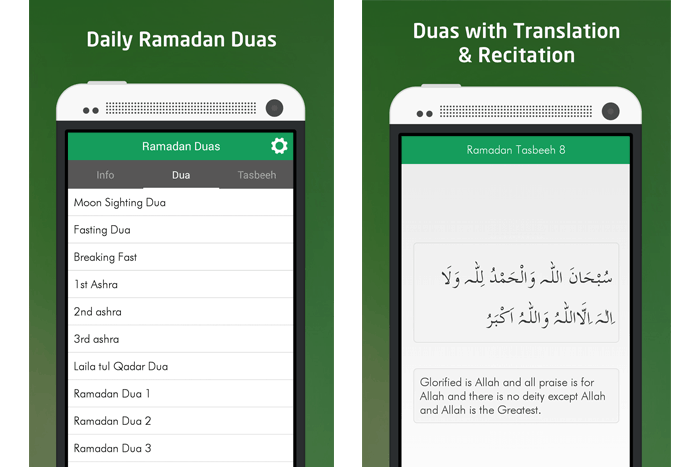 Feature of Ramadan Duas
Introduction to Ramadan: A brief introduction to Ramdan is added in Ramadan Duas app to share the blessings and importance of this month and motive Muslims towards praying more keenly. However, for fullest info about this pillar of Islam, you can download Five Pillars of Islam to explore and increase your knowledge about fasting as well.
Duas for 3 Ashras: The Duas to be recited during the 3 Ashras are mentioned separately to help distinguish between duas and reciting them regularly.
Random Duas: Some useful duas for fasting like dua for Sehri, dua for Iftar, Moon sighting duas, dua for Lailatul Qadr and dua for Taraweeh prayer are included.
Recitation of Duas: a clear recitation of every dua is included in Ramadan Duas to help user with making correct pronunciation while recitation.
In a nutshell, Ramadan Duas app is one of a kind app which is need of every Muslim during the month of Ramadan. The inclusion of Ashra duas and Taraweeh dua makes it very useful during Ramadan. In addition to this particular app, you can check for Muslim Dua Series app which entails every type of Islamic dua.