14 May 2014

Sahih Muslim App – Download The Ultimate Source of Ahadith

Sahih Muslim is the collection of authentic Ahadith of Prophet Muhammad (PBUH) complied by Imam Muslim and now presented in the form a smartphone app by The QuranReading.com. This smart app is for those are keen to know sayings of Prophet Muhammad (S.A.W) and also for those who look to authenticate various things from Sunnah. Like the original Sahih Muslim book, the app also entails 57 books relating to different subjects in which further each book enlists the content featuring sub-matters on the main subject. Therefore, this collection in the form of app is a viable resource for Muslims who are keen to learn Islam and Sunnah. The app is available free on both iTunes and Google PlayStore. Using the following download buttons, you can install this app in your smartphone:
Benefits of Sahih Muslim
Sahih Muslim collection of Hadiths is an authentic source to know and verify the sayings of Prophet Muhammad (PBUH). It has countless benefits as it carries the Sunnah of Prophet Muhammad (PBUH) in it. You can gain following benefits by using this app: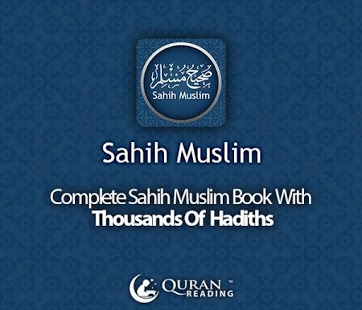 Read the Ahadith from one of the most authentic source without having to open any book.
Follow the guidelines provided by Prophet Muhammad (PBUH) in matters of daily life.
Consult the Sahih Ahadith in case of any confusion arises in following Sunnah.
Reap extra rewards from Allah by following and spreading the Sunnah of Prophet Muhammad (PBUH).
Receive daily reminder of Hadith of the day on your phone to remind you about Sunnah. This way you can learn something new from Sunnah every day.
The bookmarking or favorites option allows you to save a Hadith you like for future reference. This saves time when looking for a Hadith sometime later.
Share the Sahih Muslim collection with your friends and family with help of social sharing options given in the application.
In app searching option is available to search for specific hadiths inside the app. you can input the type of Hadith you are looking for or the reference number of Hadith and it will display all the related hadiths.
Search bar saves time of the user by letting you directly access the specific Hadith you are looking for.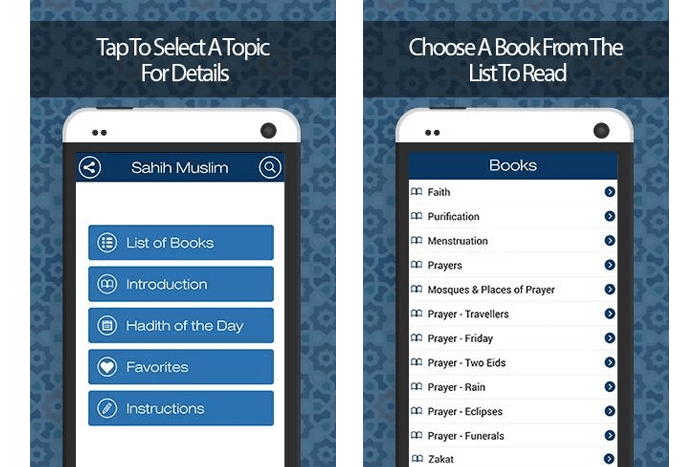 Features of Sahih Muslim
Sahih Ahadith Collection: Hadiths of Prophet Muhammad (PBUH) as narrated by different Sahaba are included in Sahih Muslim. All the Hadiths are in English for better understanding by users.
Hadith of The Day: Hadith of the Day feature can be enabled to receive daily a Hadith daily.
Favorites: While reading the Ahadith of Holy Prophet Muhammad (PBUH), a Hadith can be marked as favorite. This bookmarking option lets you save your favorite hadiths in one place and allows saving a Hadith for future reference.
Categories of Book: The Ahadith are categorized in 57 different books with sayings of Prophet Muhammad (PBUH) relating to one subject matter. In each book, there are several different chapters classifying the hadiths.
Search Bar: Search for a Hadith inside the app using the search tool. It allows the user to search using "By Hadith" and by "Reference number" of Hadith.
Theme Setting: The theme setting option lets user select the size of text, color of text and background colors.
Navigation bar: A navigation bar is provided at the bottom to scroll back and forth while reading the hadiths.
Conclusion
Sahih Muslim provides you the convenience of reading Sahih Ahadith of Prophet Muhammad (PBUH) on your smartphone. Download Sahih Muslim for free on your smartphone from Google Playstore and iTunes now.