26 May 2015

Learn Arabic App – A Guide to Learn Basics of Arabic Language

"Learn Arabic" is a Smartphone application developed by QuranReading.com (a committed e-learning academy helping Muslims all over the world learn the actual teachings of the Holy Quran) with a view to make non Arabs gain knowledge of Arabic language effectively. It assists in getting acquaintance with the correct pronunciation of the basic phrases used in this form of communication and translating meaning of its commonly spoken words in English.
Benefits
This application serves as learning Arabic for beginners guide in order to give users insight about the fundamentals of this language. It is highly helpful for those whose native mode of speech is other than Arabic and have the desire to learn it for some reason. With its translation facet, learner comes to know about the actual meaning of the routine expressions. Besides, it also aids in knowing about the actual way of articulating the Arabic idioms through Transliteration.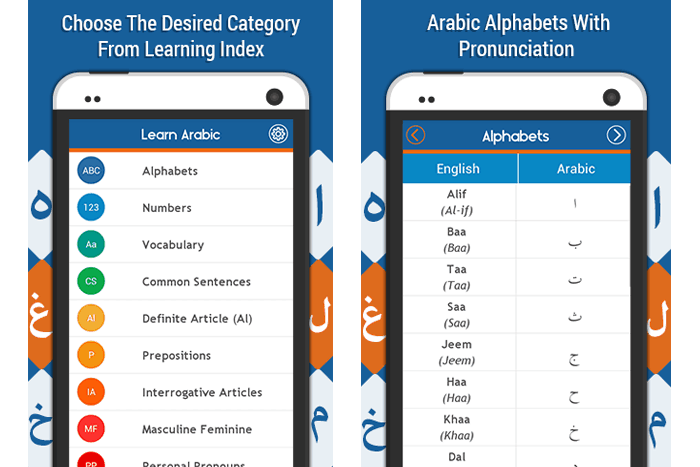 Features
Some of the most distinguishing features of this language learning app are:
User-friendly interface making it very easy to understand.
Wide-ranging sets of learning objective which are split into 9 main categories.
Font Size can be modified on a scale of small to large depending upon one`s liking.
Font Colors of three different kinds, i.e. Dark Grey, Blue and Orange are available.
Background Colors of light nature are also accessible making user experience variant.
Save and Reset Options make app consumer able to keep or alter any changes made to Settings.
Categories
The overall knowledge about the essentials of the commonly spoken, read and written Arabic words and phrases in this mobile phone tool have been divided into following 9 major groups along with their interpretations in English and correct method of pronouncing them.
Alphabets: This segment comprises of all the fundamental letters of Arabic from "Al-if to Hamza" to give users a kick-start on learning this language.
Numbers: It covers the important integers like "1 to 20, 1000 and 1000000" giving a necessary know-how of mathematical numbers used in this tongue.
Vocabulary: This section consists of nearly all the basic terms used in Arabic associated with topics like "Days, weather, food and house etc." to make user able to talk in Arabic in these circumstances.
Common Sentences/Words: Terminologies that are frequently used in this type of communication are also included like "Big/small, this/that and what time is it etc. so that app utilize could make use of them better.
Definite Article: In this sector, user comes to know about five Definite Articles which are "Some, a, few, the and one" making people come to know about their correct usage in this language.
Prepositions: Basic part of any language, i.e. Prepositions, which are often used in Arabic are also included such as "Above, against, around, into, on and near".
Interrogative Articles: Frequently spoken interrogative articles like "Who, where, how and how/when/where" will help users know about their actual practice in Arabic.
Masculine Feminine: In this category, app consumer learns to distinguish between male and female titles like "husband, wife, father, mother, uncle, aunt etc".
Personal Pronouns: Some of the most commonly used personal pronouns used in Arabic are also given such as "I, he, she, we, me and them etc".
Conversations: This fragment lets the Arabic learners come to know about repeatedly spoken daily conversational phrases in order to make them comfortable with talking in this verbal communication.
Download this free and easy to use Arabic language learning application right now so as to make yourself acquainted with the fundamentals of this form of communication in the most effective manner.